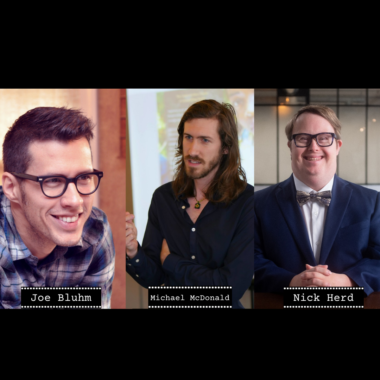 Michael Joseph McDonald, Joe Bluhm & Nick Herd -
Montreal
Michael Joseph McDonald (Director) is an author, filmmaker, and humanitarian. Before filmmaking, he worked as a ghostwriter, publishing four nonfiction books and receiving an Academy of American Poets Prize. His films explore the intersection between fragility and resilience. He's a big fan of triptychs, overlapping story structures, and Sri Lankan buffalo curd.
Joe Bluhm (Director) is an Academy Award and Emmy Award-winning artist who worked with William Joyce on The Fantastic Flying Books of Mr. Morris Lessmore. He's also a character designer, animator, and recovering theme park caricaturist.
Nick Herd (Creative Director) is a Canadian actor, author, and LGBTQ activist who was born with Down syndrome. He has worked on stage, and in film and television for 20 years. Most recently, Nick hosted Battle of the Fans, the first international lip sync competition hosted by persons with intellectual disabilities. He also hosts his own online talk show on the Disability Channel, Keeping it Real with Nick, and starred in a recent episode of Employable Me.
Films by Michael Joseph McDonald, Joe Bluhm & Nick Herd
back to all artists