Selection Committee
2022 Vancouver Island Short Film Festival
Selection Committee
Sohee Hong 
Sohee Hong is a graduate of Vancouver Film School and InFocus Film School, and she is an emerging filmmaker in Canada and South Korea. Her personal coming of age short film Barrier has been screened at CBC Short Film Face Off and Vancouver Island Short Film Festival 2021; it also has been a finalist at Tokyo International Short Film Festival 2021. Her second short film Movement, an experimental drama short film, was a quarter-finalist at Vancouver Independent Film Festival and an award winner as a best new filmmaker at Canadian Diversity Film Festival. Her recent works have been in the Assistant Directing Department in various local short films in Seoul, Vancouver Island, and Vancouver, and has recently co-produced a Canada and BC Arts Council funded short film My Name Is Arnold, which is currently in post production. She is honoured and grateful to be involved and be part of 2022 VISFF Selection Committee.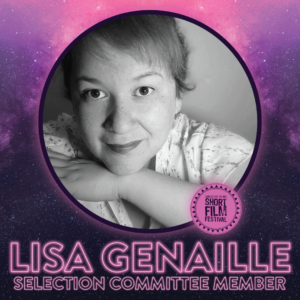 Lisa Genaille
Lisa Genaille is a First Nations Producer of Sto:lo (Coast Salish) and Anishinaabe and based in British Columbia. She worked at the ground level in Film and TV industry in Vancouver, BC as a P.A on various U.S network productions; Lisa worked on various indie productions from Camera Assistant to craft services. She joined Sir Perphoulous Flms Inc in 2008, which is owned and operated by her Brother Robert Genaille and they have produced two docu-series for APTN; including winning a Leo Award for best docu-series.
Lisa has produced numerous short films that have screened at VIFF, ImagineNative, and elsewhere around the globe. In 2019, Lisa has had four feature films as a producer selected to receive development funding; Tales of the Thunderbird, Rehab, and White Blood were all selected by The Harold Greenberg Fund to receive development funding, while Android Privilege was selected by APTN for development funding. She recently finished filming a Telefilm Funded feature, which is currently in Post. In 2021, she formed Stray Cat Entertainment, which will focus on character driven independent stories.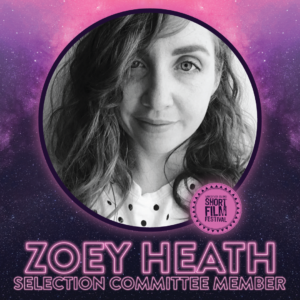 Zoey Heath
Zoey Heath's visual eye was honed while attending film school and developed into a career when Zoey was thrown into the role of photographer on film sets. From there, Zoey owned a successful media business, working alongside and managing a team of photographers, videographers and editors to produce various media content for both small and large-scale events. Zoey has worked with multiple high-profile clients including; Canada Council for the Arts, AOL Canada, the University of Waterloo, The Huffington Post, The Ontario Arts Council, Wilfred Laurier University, and Arts & Crafts Productions.
During the same period, Zoey received awards for scriptwriting and photography, helped organize classic film screenings for Cinematique Waterloo and helped establish an artist-run collective that provided affordable arts space to up-and-coming artists.
Since moving to Nanaimo, Zoey has served on the board of directors for Hub City Walls and currently works as the Communications Manager at The Old School House Arts Centre. Zoey is a passionate advocate for community art and works to promote accessible and inclusive arts programming in their work.
In their free time, Zoey works in the TOSH Darkroom with alternative photography processes and is currently working a new series for an upcoming solo exhibition in July 2022.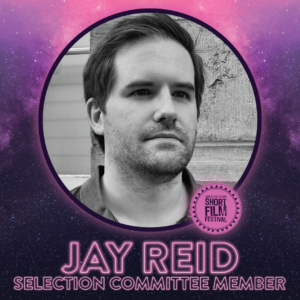 Jay Reid
Jay Reid is award-winning writer/director and freelance journalist whose films have played at Canadian, US and international festivals and have also been featured on short websites such as FilmShortage.com.
Reid, an accomplished screenwriter, is the winner of SODEC's Grand Prize for his short screenplay Phases of the Moon. As a result of his win, SODEC sent him to the 2016 Cannes Film Festival as part of SODEC Lab to attend the Producers Workshop. His feature script, Volunteer, a dark comedy/drama about suicide hotline volunteers, was shortlisted for The Black List Feature Lab 2018 and the Black List/Cassian Elwes Fellowship, and was a finalist in Screencraft's Screenwriting Fellowship.
Lifelike, his latest short, sent him to Cannes for the second time as it was selected as one of 15 films in Canada to be part of Telefilm's Not Short on Talent Program 2019 at the Cannes market. It premiered in Quebec at the 38th Abitibi-Temiscamingue International Film Festival in Rouyn-Noranda, and went to play at festivals throughout Canada, the US, Mexico and internationally. It was selected by the Boston Underground Film Festival to be included in the Nightstream 2020 Film Festival, a combination of five of the most important genre festivals in the US during the pandemic and the largest online genre event ever and won Best Short Film at the Grindsploitation Film Festival (part of GenreBlast).
His next short, Prophylactic, was selected by Maison des Scenaristes for their writer/ producer meetings at Clermond-Ferrand 2021 after being one of 15 finalists in the Shore Scripts Film Fund competition in 2020 and has recently been optioned by Dark Prince.
He is currently in pre-production for Jabroni, a dark comedy, which will be his first feature.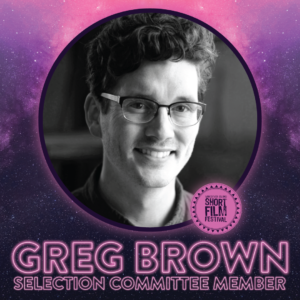 Greg Brown
Greg Brown is a writer from Vancouver Island. He's the winner of the 2018 Grouse Grind Lit Prize for V. Short Forms and a finalist for the 2018 Writers' Trust of Canada/McClelland & Stewart Journey Prize. His writing has appeared in Paragon, Pulp Literature, PRISM International, Best Microfiction 2019, The Journey Prize 30: The Best of Canada's New Writers, and elsewhere. He's taught creative writing at the University of Virginia's Young Writers Workshop and for the Creative Writing for Children Society in Vancouver, BC. He previously served as Submissions Coordinator for the Vancouver Island Short Film Festival and was Vice-President of the VISFF Board for the 2019-2020 season.