Judging Committee
Vancouver Island Short Film Festival 2021 Judging Committee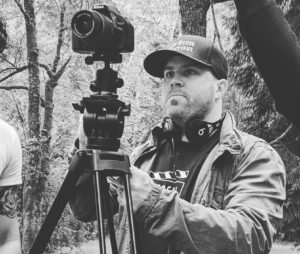 Matt Haley
Matthew Stephen Haley (Born July 5, 1983) is a Canadian veteran, writer, and award-winning film maker. He was born in Fort. St John, BC to parents Peter and Sue, and is the middle child of three. Growing up in Victoria BC, Matt was an adventurous kid with a wild imagination. When he wasn't building epic tree forts with his older brother Chris, or playing sports (Baseball and Rugby), he could be found staging elaborate battle sequences with his Legos and Ninja Turtles. In high school, his passion and imagination turned to writing, films, and stand-up comedy. Matt wrote his first full length script at seventeen (Abstract Minds) and instantly fell in love with the process. In 2007 he joined the Canadian Armed Forces with the Princess Patricia's Canadian Light Infantry. He deployed to multiple countries with tours in Afghanistan and Cyprus, as well as many domestic operations fighting fires and floods. After serving with distinction for ten years, he released from the CF in 2017 to pursue his life's passion. Enrolling at the Vancouver Film School to study Film Production. But his studies were cut short due to substance abuse and mental health troubles. After a stint in treatment, achieving sobriety, and working on himself. Matt has enjoyed a resurgence of emotional, spiritual, and professional success. In early 2019, Matt established his own independent film company, Haley House Productions and currently resides in Nanaimo, BC. Over the last few years, he has been diligently working on narrative films. Completing several short films, as well as writing, producing, and directing his first feature length film: The Twelve Step Strangler. 
Frank Moher
Frank Moher is a scriptwriter and journalist. His plays have been seen throughout North America as well as internationally, and as a screen and TV writer he has worked for the CBC, the National Film Board, and various independent producers. He is director of the pioneering online scriptwriting workshop E-script, and also Executive Director of Western Edge Theatre in Nanaimo. He taught scriptwriting and journalism at Vancouver Island University for 30 years.
Darlene Tait
Darlene Tait is an active member of Vancouver Island's film community. As current President of the Cinevic Independent Film Society, Vice President of the Vancouver Island South Film Commission and recently stepped down from the board of Women in Film and Television Vancouver (WIFTV), she lends her extensive business expertise to film production happening in the region.
As an Actor, Darlene is frequently seen in film for which she has won numerous Best Actress awards. She can also be seen regularly on commercials and periodically steps into the Producer role for local, independent film where again, she has received numerous awards.
Shane Book
Shane Book is a poet and filmmaker. His first poetry collection, Ceiling of Sticks, was a Poetry Society of America Selection and won the Prairie Schooner Book Prize and the Great Lakes Colleges Association New Writers Award. His second volume of poetry, Congotronic, was a finalist for the Canadian Authors Association Award, City of Ottawa Book Award and Griffin Prize for Excellence in Poetry and won the Archibald Lampman Award. His writing has been translated into Italian and Chinese. In addition to publishing in numerous magazines in the U.S., U.K. and Canada, including Poetry, The Walrus, Lana Turner and PN Review — his work has also been reprinted in many anthologies, including The Best Canadian Poetry in English, The Best American Experimental Writing, Black Nature: Four Hundred Years of African American Nature Poetry, Coming Close: Forty Essays on Philip Levine and The Next Wave: An Anthology of 21 st Century Canadian Poetry. His two short films, Dust and Praise & Blame have been official selections at more than fifty film festivals in Africa, Asia, Europe, North America and South America; as well as playing on television in Trinidad, Jamaica and the USA. He was educated at Western University, the University of Victoria, New York University, Temple University, the University of Iowa Writers' Workshop; and Stanford University, where he was a Wallace Stegner Fellow. His honors include the Ontario Arts Council's Chalmers Foundation Award, a Telluride Film Festival Fellowship, an Academy of America Poets Prize, a Robert Flaherty Film Seminar Fellowship, a New York Times Fellowship, the K.M. Hunter Award in Literature, and a National Magazine Award. He has taught at universities across the United States including Stanford, Iowa, NYU and the University of California, Berkeley and has been Writer-in-Residence at Randolph Macon Women's College in Virginia, Saint Mary's College of California and the University of Calgary. An associate professor in the Department of Writing at the University of Victoria, his third poetry collection, All Black Everything, will be published by Penguin Random House in 2022.
Meaghan Stringer
Meaghan Stringer is a literary assistant at Meridian Artists. Raised in Northern Ontario, Meaghan is a graduate of the RTA Media Production program at Ryerson University where she directed the comedy web series BRENNAN & VICTORIA MAKE RENT. She is on the board for Tangled Art + Disability, a not-for-profit organization dedicated to advancing disability arts in Canada. She was the Marketing and Theatrical Intern for Mongrel Media, a Canadian independent film distribution company where she helped with grassroots outreach marketing for feature titles such as Giant Little Ones and The Grizzlies.